Back in the Spring of 2018 when I first started working on Localify.org with JimiLab Alum John Burger, I was really excited to work on a novel music event recommendation app. We spent the following two summers taking the early-stage concept and turning it into a professional-grade web and mobile app. We then launched in the Fall of 2019 a few months before we all became shut-ins due to COVID19.
Our rollout over the subsequent two years has been a bit bumpy while we have waited patiently for live music to return back to normal. And while we have all been burned before, we are hopeful that Summer 2022 is when we finally get to take off our masks and put on our dancing shoes.
To this end, this summer is all about using technology to support the return of live music. We have three main directions:
improve and promote Localify.org
launch, improve, and relaunch our new Porchfest.live app
explore the concept of music deserts: cities with underdevelopment music scenes
The following three sections discuss these ideas in detail.
We relaunched localify.org in July 2021 and it has been up and running for about a year now. We are overall pretty happy with the concept but there are three things that we want to improve this summer:
A New, More-Scaleable Backend: Over the past four years we have built up a codebase in an evolutionary manner as we flushed out the concept. It is now time that we use good software engineering practice (test-driven development, modular components, continuous integration) and more powerful tools (e.g., Spring Boot, ElasticSearch) to overhaul the backend. It will make the overall system faster, easier to maintain, more automated, and more extensible. This also includes building an interactive dashboard so that we can monitor our service, clean bad data, and improve support for our outreach efforts. April Trainor will be in charge of the re-architecting and re-engineering of this new backend.
Crowdsource-Powered Frontend: This past spring we worked with an Integrated Marketing and Communication team to help us evaluate the potential of Localify. The big takeaway is that (a) artist support will be essential if we want to get the word out, and (b) artists would really like to be able to add information about their music events directly when using our app. The idea is to give artists (and fans) agency and have them invest their time contributing to Localify, then they are much more likely to help us hype Localify to their fans. Emmett Barry, Griffin Homan, and D'Andre Walker are all learning about frontend development in React/Next.js this summer and will be working on adding these crowdsourcing features to our frontend.
Massive Outreach: The last two summers have been frustrating because just when we were getting ready to launch a big marketing campaign, a new variant of the COVID19 virus came along and either canceled live music shows outright or made fans nervous about going back to see live music in person. But we are past that now…right? Well, either way, we are going to go big on Localify promotion this summer with artist outreach, social media engagement, and shameless self-promotion. Kate Miller is our marketing lead and she is going to make it happen!
We believe Localify.org has a lot of untapped potential to help strengthen local music scenes and we are excited to see if we can realize that potential this summer.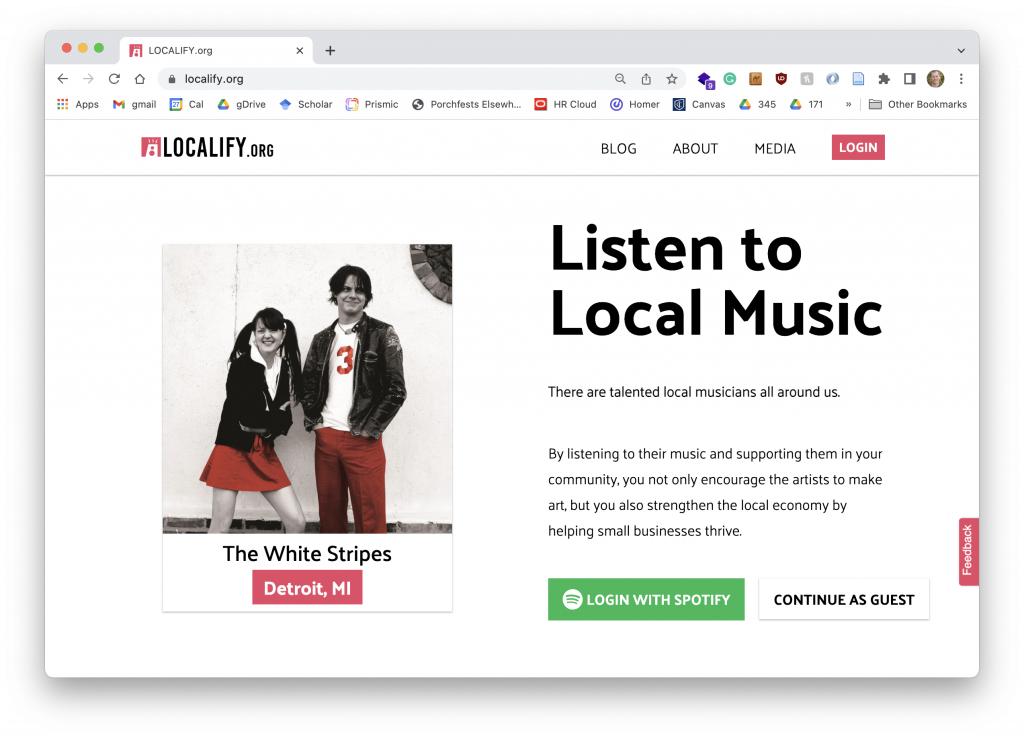 Over the past 4 semesters, a team of amazing students (Vera Crabtree, Sam Edelstein, Aidan Glendon, Sean Blackford, and Elias Platt) has built an app to serve as a guide for local Porchfest events. Unlike Localify.org which is my baby, the design and development of Porchfest.live has been almost 100% student-driven without too much interference from me. So I was a bit miffed when a research talk about Porchfest.live beat out a talk about Localify.org for a research award at our recent Whalen Academic Research Symposium at Ithaca College in April. But what do those judges know anyway…
But now that I have swallowed my pride, I am very excited that will be launching our new app at Trumansburg Porchfest on June 11. We will use the Tburg launch to collect feedback that will help us further improve the app this summer. We will then re-launching the app at Ithaca Porchfest in September. Our long-term goal is to make Porchfest.live a service that the 168 Porchfests around the country can use to augment the experience for artists and fans.
Music Deserts
A "Music Deserts" is a neighborhood, city, or region with an underdeveloped music scene. For the past year, I have been working with Michael Zhou (undergrad at Cornell) and Andy McGraw (music professor at the University of Richmond) to explore how we can use the large amount of live music event data that we have collected for Localify.org to study local music scenes.
We just submitted our first manuscript on this line of research to the 2022 International Society for Music Information Retrieval Conference (ISMIR '22). We looked at 270,000 live events during 2019 in the United States to identify cities with many music events per capita ("Music Havens") and cities with relatively few music events per capita ("Music Deserts"). Currently, Andy is planning a road trip this summer to explore the cities that our data-driven approach has correctly identified certain cities as music deserts.
Our next step is to develop interactive visualization of this data so that musicologists can use it in their research. April Trainor is actively working on using ElasticSearch and Kibana to make a dashboard that can both cluster music event data and make heat maps of music event density on a map interface.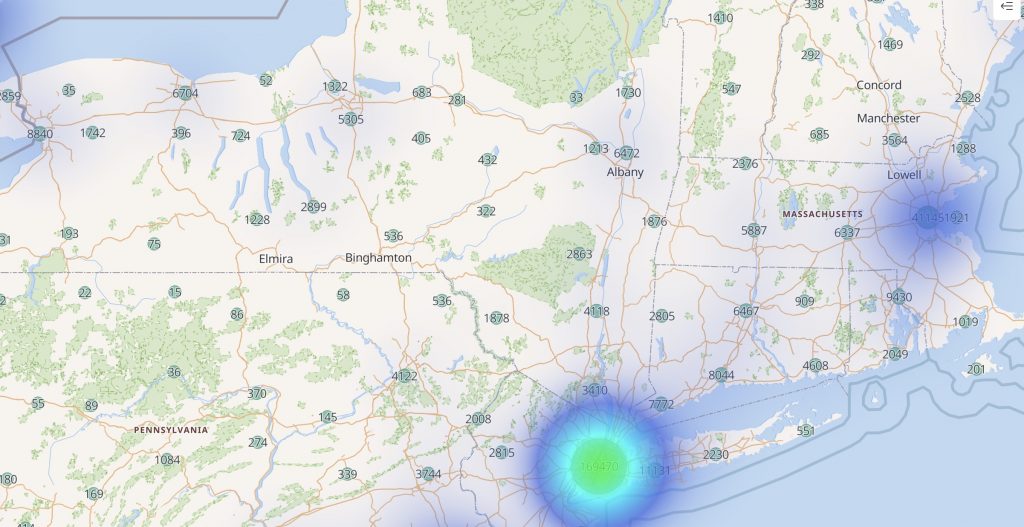 The Team
This summer, with generous support from the Ithaca College Summer Scholars Program and the National Science Foundation, we will have a team of 5 fully-funded summer researchers:
Emmett Barry – returns from last summer when he worked on developing our suite of music event scrapers. This summer his focus is to learn frontend development (React/Next.js) so that he can go fully full-stack for both Localify.org and Porchfest.org.
April Trainor – a wildly talented backend developer and DevOps guru who will be continuing her academic year work on Localify, Porchfest, and Music Deserts. Her big focus is to dig into our music recommender system and learn a bit about counterfactual learning.
Kate Miller – the lead brand manager, outreach coordinator, blog writer, social media supervisor, and marketing director for both Localify and Porchfest. She has her hands full.
Griffin Homan & D'Andre Walker – incoming JimiLab members who will be diving headfirst into web programming this summer. We will see how it goes for them…
I'm excited about this summer because live music is back and we have a strong team that can pull off amazing things.
– Doug