Ithaca has a superb local music scene. I grew up here and spent a good part of my youth going to late-night shows, outdoor music festivals, and free shows in the public parks. More often then not, the music that was spinning on my trusty Discman was a CD that I had picked up at one of these live music events.
But when I went off to college and then moved to various cities, I found it hard to get into the various local music scenes. It took much time and effort to find events, learn about local bands, and acquire a taste for the local sound.
At the same time, I was researching computational music analysis and reading a bit about music cognition as part of my Ph.D. studies. I began to envision a music recommendation system that would take a user's mainstream music interests and use them to provide locally-focused artist recommendations.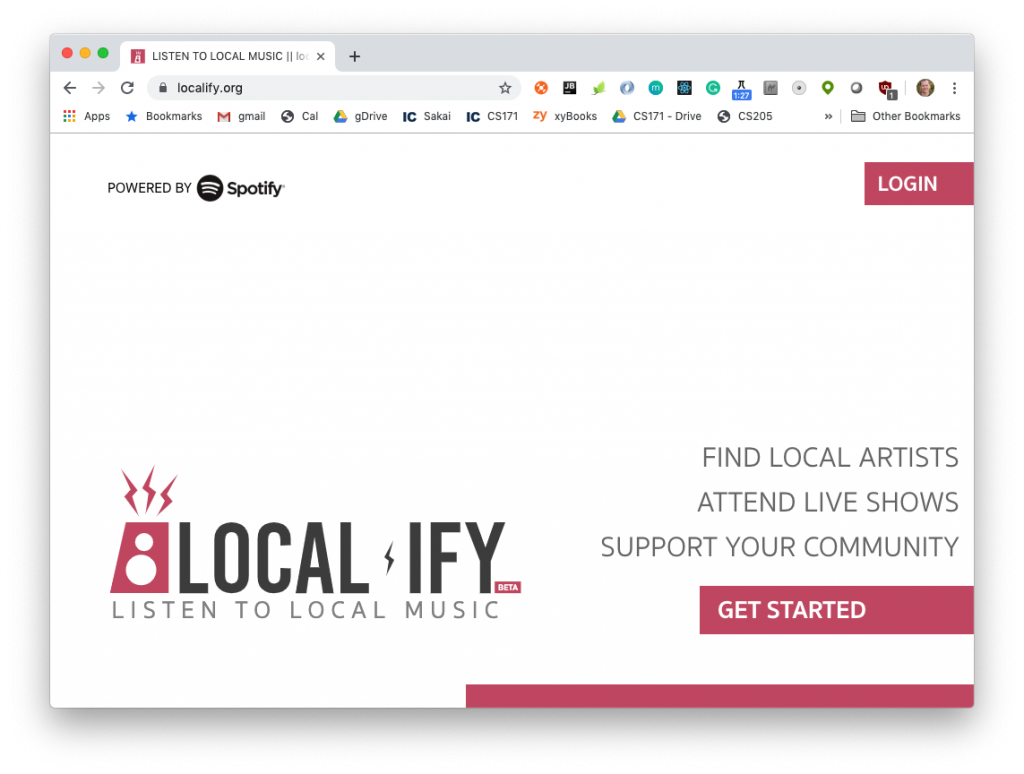 Flash forward over a decade later through an unsuccessful start-up (Music Search, Inc.) and an 8-year academic project (MegsRadio.fm), I am excited to announce the latest attempt to get people to listen to local music: Localify.org
Make Spotify Local
MegsRadio.fm used the standard personalized radio model (Pandora, Slacker) but the playlist algorithm mixed in songs by local artists with songs by mainstream artists. This might have been a good idea when we started in 2010 but it took us too long to develop the cross-platform app with a (frequently graduating) team of undergraduate students. In the meantime, on-demand celestial jukeboxes like Spotify and Apple Music became a reality and quickly have replaced the personalized radio player model as the dominant way to stream music.
Given the limitations of academic music licenses and the prohibitive costs of developing our own academic celestial jukebox, we decided to explore ways we could leverage existing commercial music streaming services to see if we could co-opt them to help promote local music. Lucky for us, Spotify provides extensive ways to integrate their platform using their expansive public API. So rather than beat them, we decide to join them.
Interactive Design
Our "app" is really three services: a web app with event recommendations, a Spotify playlist generator, and a personalized weekly email digest.
Here is how it works:
You create a Localify account by logging in using your Spotify username and password.
You select a city
We recommend upcoming music events in your city based on your "heavy rotation" artists on Spotify
We create personalized playlists that mix together your artists with similar local artists. This playlist is automatically updated every week.
We also send you a personalized email digest every week with shows that you have selected on our web app, as well as event recommendations for your city.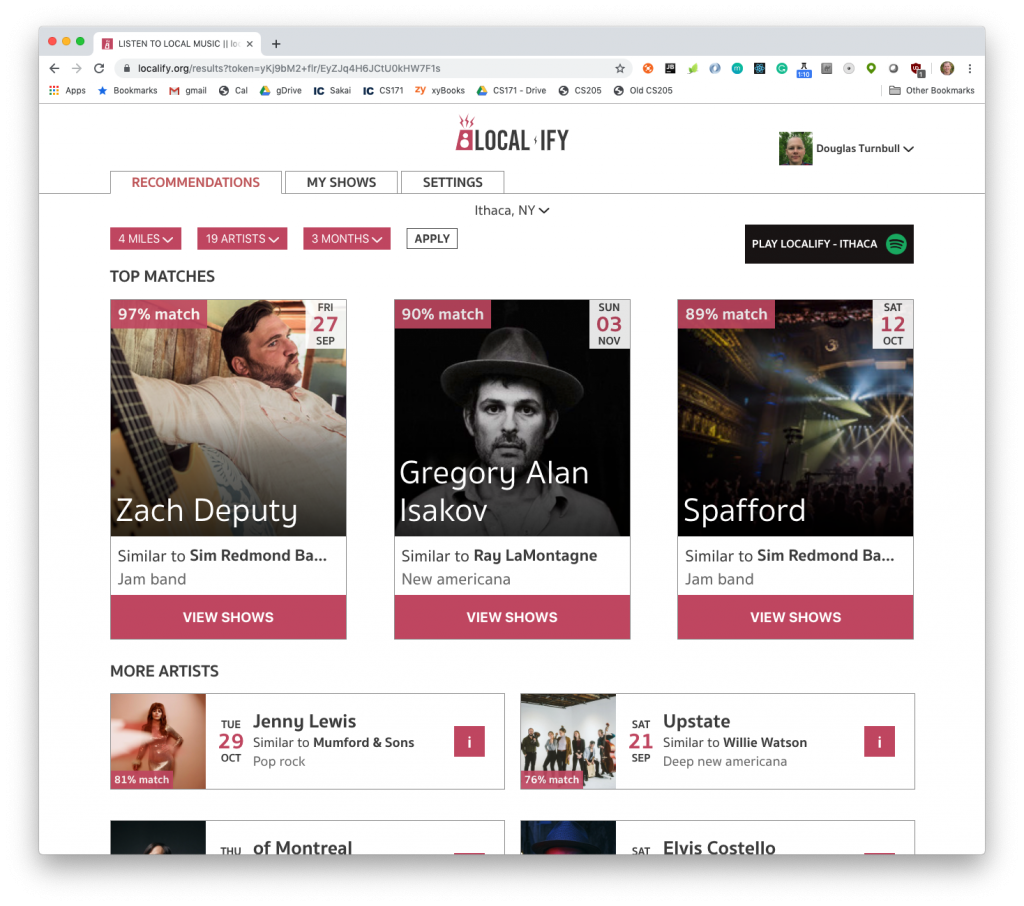 The idea is that there are great local artists all around us. They just need to be heard. By exposing them to you on a playlist along with your favorite artists, the local artists will become more familiar and preferred over time. Then, when you see an upcoming event featuring one of these local artists, you will be more likely to go check it out.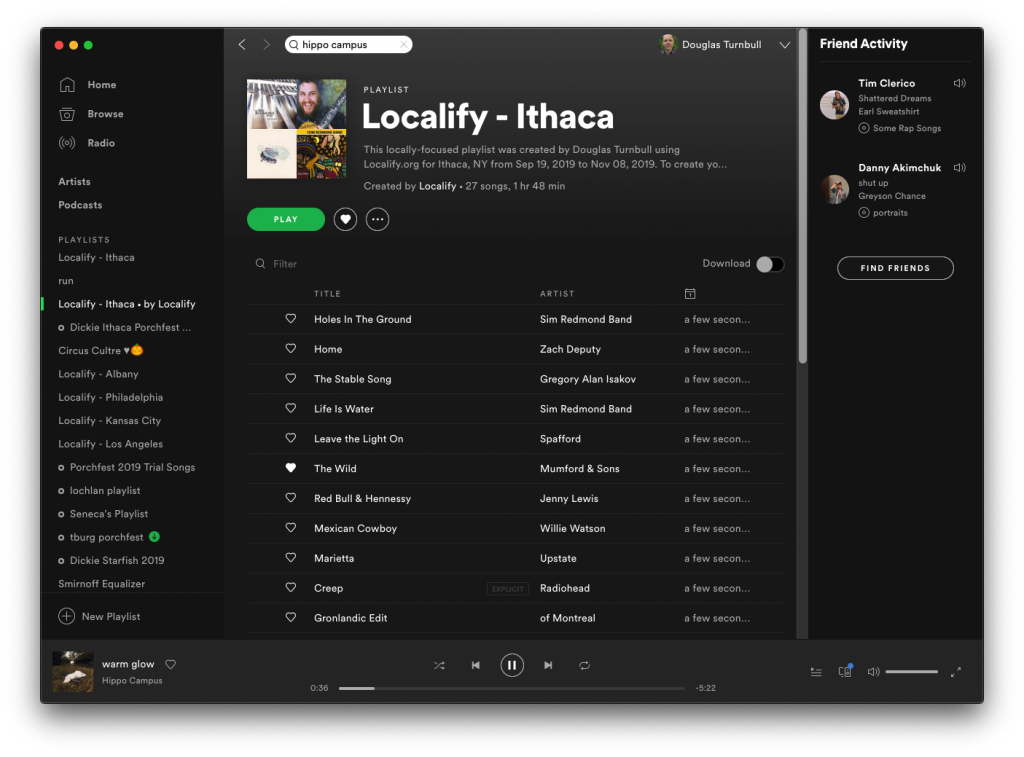 Eat Local, Shop Local, Listen Local
Supporting local farmers and small business owners is good for a number of economic, social and environmental reasons. So is supporting local artists. For example, if you go to 12 shows per year, on average you would spend $270 on local businesses and directly contribute $135 to salaries for people in your community. More importantly, supporting the local artistic community increases the quality of life for everyone! Just imagine life without music.
Free-to-Use, Ad-Free, Non-for-profit Academic Project
Localify has been primarily designed and developed by students at Ithaca College and Cornell University. It is free-to-use and will never be supported by ads due to the generous support of the National Science Foundation. In addition, Localify is a platform for research related to machine learning, recommender systems, software engineering, and human-computer interaction.
Listen to Local Music
– Doug Turnbull
ps – This post is also found on our new Localify Blog.